Category Archives: comics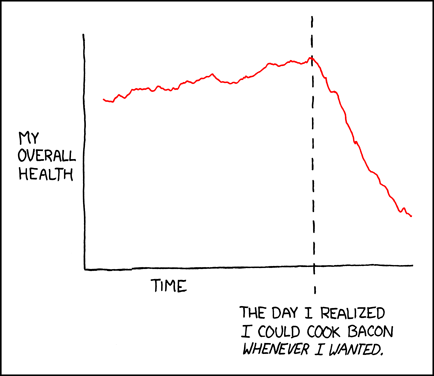 A: I love bacon.
B: It's the smartest (no, seriously, most of the strips are math/programming jokes) web comic on the intertubes.
Check it out. New strips Mondays, Wednesdays and Fridays.
…well, kinda… This website (tedsblog.com) is gonna be featured on page 17 of Bomb Queen IV #3 which is being shipped/ready for purchase TODAY!
Big thanks to Jimmie Robinson who took my simple request and actually turned it into something tangible.
Take a look, my URL will be on the computer screen between the beautiful ladies rubbing oil all over each other. So, yeah, I don't expect too many people to notice… 😉
Good times!
A message board I frequent has a weekly football pick-em that I take part in. It's pretty simple, pick who you think is going to win in the week's matchups. I've been hovering around the middle of the pack for weeks 1-7 and didn't expect that to change for week 8. I don't really pay too much attention and go more with my gut than anything. Stephen Colbert would be proud.
Here were my picks for week 8 (bolded/italicized):
SUN, OCT 28
Detroit at Chicago 1:00 PM
Pittsburgh at Cincinnati 1:00 PM
Oakland at Tennessee 1:00 PM
Cleveland at St. Louis 1:00 PM
NY Giants at Miami 1:00 PM
Philadelphia at Minnesota 1:00 PM
Indianapolis at Carolina 1:00 PM
Buffalo at NY Jets 4:05 PM
Houston at San Diego 4:05 PM
Jacksonville at Tampa Bay 4:05 PM
New Orleans at San Francisco 4:15 PM
Washington at New England 4:15 PM
MON, OCT 29
Green Bay at Denver 8:30 PM
I went 13 for 13 in my picks moving me from the middle of the pack all the way up to second place! In one week! Yay me!
I've been looking to get this collection for over a year now and came this close to buying a hand-numbered limited-edition hardcover autographed by Jeff Smith himself. Since I've never read more than 2-3 pages of Bone, I didn't have it in me to spend that kind of dough on something I'd no real experience with. Well, I'm about 150 pages into the book and now wish that I had bought the hardcover uber-edition. It's really that good and worth the $40 cover price for the paperback edition.
It's coming up on the holidays and the guys over at Penny Arcade are hosting Child's Play Charity again. They've raised almost $1 Million in gifts and donations over the last three years. If you're so inclined, head on over to Child's Play Charity and make a donation to a Children's Hospital near you.
I've also created a banner on the right-hand side you can click on to go to their site as well. Go ahead and do it, make a sick kid (or kids) a little bit more happy for the Holidays and beyond!
Your results:
You are Green Lantern
| | | |
| --- | --- | --- |
| Green Lantern | --- | 85% |
| Spider-Man | --- | 65% |
| Hulk | --- | 60% |
| Superman | --- | 55% |
| Catwoman | --- | 55% |
| The Flash | --- | 55% |
| Iron Man | --- | 50% |
| Batman | --- | 50% |
| Robin | --- | 43% |
| Supergirl | --- | 43% |
| Wonder Woman | --- | 23% |

Hot-headed. You have strong
will power and a good imagination.

It's that time of the year again kids! For the third year running the good folks over at Penny Arcade are helping out kids in need by taking donated games, books, gaming machines and more and giving them to 16 Children's Hospitals in the USA, two in Canada and one in England. Here's a link to the main site. Please take my word for it, these guys are doing great work. Every penny you spend goes directly to the kids and you can choose to buy all sorts of stuff from Amazon wish lists for the kids (created by the hospitals).
My meager words can't do this justice, just click on the link and do whatever you can to help these sick kids and their families have a happy holiday season and beyond.
Technorati Tags: penny arcade, child's play, charity, help kids, children's hospitals
Pie + Cats in pants = Comedy Gold!
Get Fuzzy is probably my favorite comic strip now. After Bloom County went "off the air," I ws in kind of a funk until I discovered (via my brother Erik) Get Fuzzy.
Les over at Stupid Evil Bastard also posted a Get Fuzzy strip from over the weekend depicting a Shroud of Turin-esque Mrs Butterworth…